1) Create an account on Hello Bar by clicking here. Fill out the information when
prompted.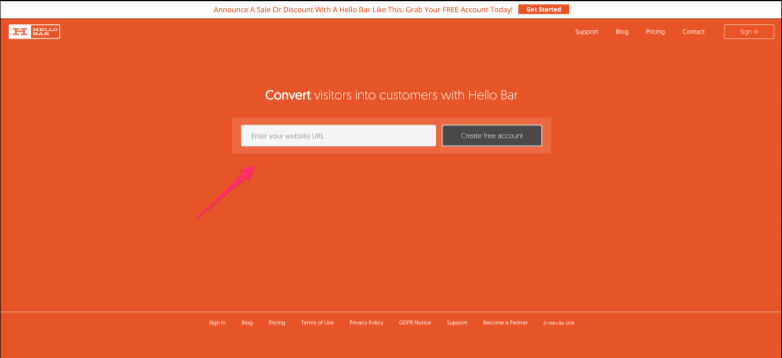 2) For this tutorial, you'll want to click on 'Collect emails' when the Hello Bar asks for your
goal in using them.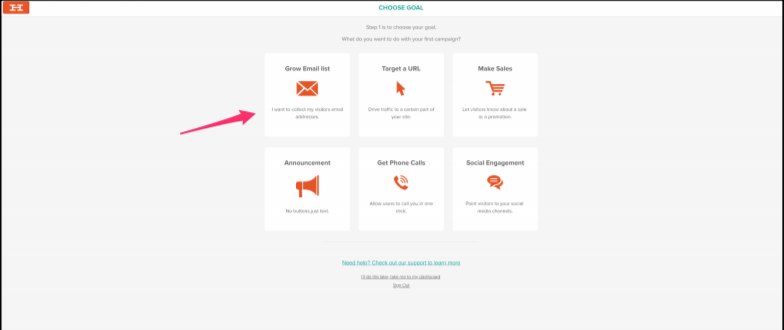 3) From there, you can choose what you think is the best way to capture the emails: a bar,
a modal, a slider, a page takeover, or an alert.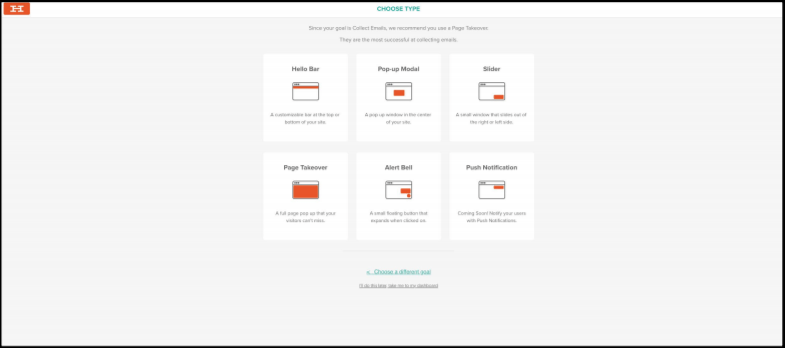 4) Next is the design. You can change the text, colors, and fonts in the box.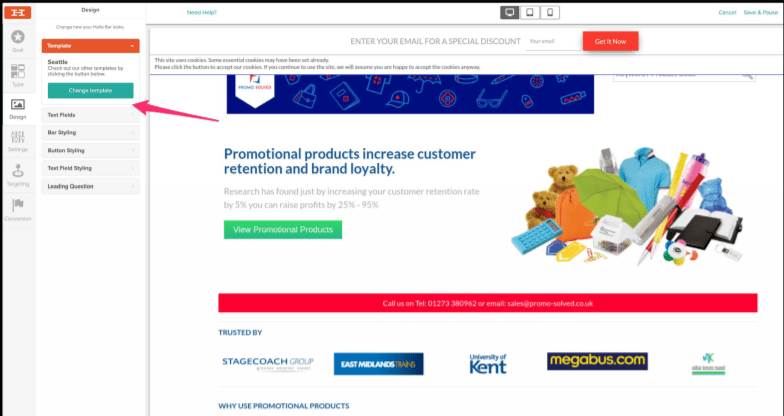 5) Click 'Next' at the bottom of the page, and you'll be taken to settings. You can play
around with them, as they'll ask questions about whether you want the capture button
to wiggle, whether the box or bar will remain in place while scrolling, and whether you
want users to have the ability to hide the bar. Click 'Next' when you're finished.
6) The next option is asking who should see the box/bar, and how long after someone's
given their email should they continue to see it. Click 'Next' when you're finished
choosing.
7) The last step is conversion styling – as in what kind of text should pop up once someone
has given you their email.
8) Once you're finished all that – and don't worry, you can always go back – click 'Publish
Now' on the top right of the window.
Installation of the Hello Bar on your site:
You can view all of this information by clicking here as well.
To install on your website yourself:
1) Click on the above link.
2) Click on the box 'I can install code myself' on that page.
3) Copy and paste the code provided right before the closing </body> tag on your website.
For WordPress installation:
1) Navigate on over to the admin dashboard of your website. Hover your mouse over
'Plugins' on the left-hand side. Click 'Add New.'
2) Search for Hello Bar, and click 'Install Now' once you've located it. After it's finished
installing, click on 'Activate.' It'll be in the same place as 'Install Now' was.
3) The Hello Bar plugin should now show up on your WordPress admin sidebar, so click on
that. Copy your site snippet (that Hello Bar provides right here), and you should be good
to go!
For Wix installation:
1) Copy your Hello Bar ID from right here.
2) Go to your Wix account, click 'Promote,' then 'Marketing Integrations,' and, in the
HelloBar widget, click 'Go for it.'