Constant A/B testing on title tags is hardly ever carried out by businesses.
They either don't have the time, or it's not considered as being that important.
That's just plain wrong.
A/B testing improves visitor engagement, reduces bounce rates and increases conversion rates- all of which are essential for a successful business.
A well constructed catchy title tag or headline draws in or piques interest and can improve click-through-rates by as much as 20-100%.
How to Increase Your Click-Through Rates (CTRs) By Changing Your Title Tags
I recommend using Clickflow for finding keywords for your title tags, but there are other ways
I'll be taking you through as well. To use Clickflow, you'll need to set up an account with them.
Navigate on over to their site by clicking here if you haven't already done so.
1) When you're on your Clickflow dashboard, click on 'Suggestions' and then 'View Details.'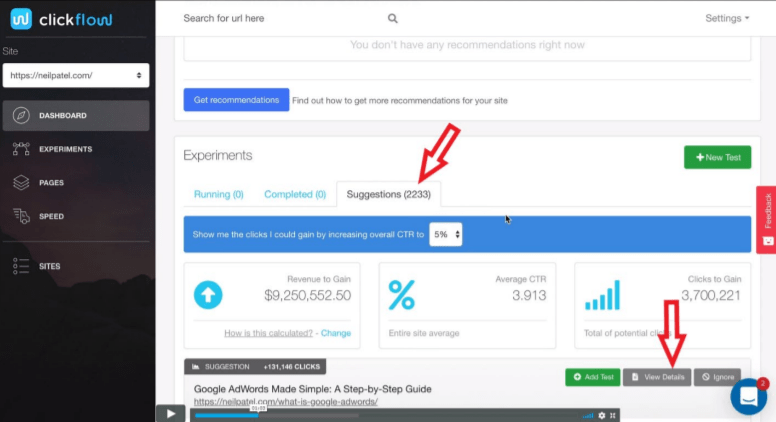 2) You can see your clicks over time, but what you're looking for is what's right below that:
your keywords. These are the words you want to make sure you're putting in your title –
the ones with the most clicks. This is really the easiest way to boost your CTRs.
3) To run a test to see which is the best performing between a couple of your title tags, all
you need to do is click on 'Pages' in the sidebar, click the tag you want to test, then hit
'New Test.' It's really that simple. I recommend changing the duration of your test to 30
days – any shorter period won't be long enough to obtain significant results.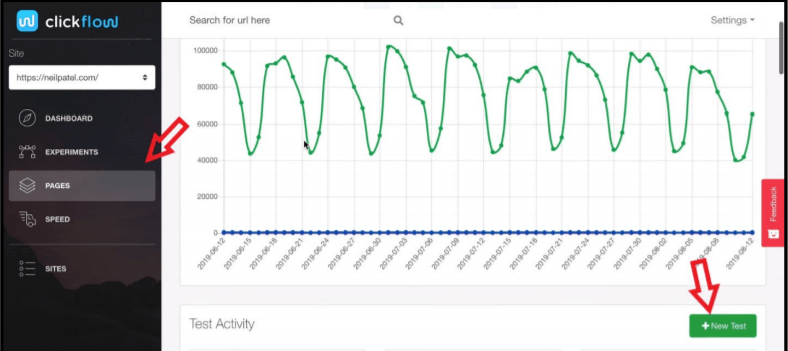 Examples of Words and Concepts to Add to Your Title Tag to Boost
CTRs:
● "Cheap" (The Cheapest Way to Fly in 2019)
● "Best" (The Best Guide to SEO)
● Dates (The 11 Best Stainless Steel Knives to Own in 2019)
● Prices (50% Discount on Company XYZ's Watch Selection This Month)
● Number of (11 Exotic Investments That'll Make You a Millionaire)
● Brand Names (This Company Is Poised to Take Over the Medical World – Company XYZ)
● Brackets ()
● Symbols like ©, @, &, %, and !
Here are a few examples of good headlines you could mold to your own:
● The Best 18 Advertisements of All Time – HubSpot
● 22 Digital Marketing Trends You Can No Longer Ignore in 2019
● The Best 22 Digital Marketing Trends (August 2019 Update)
● Buy Apple Watch Series 4 from $599 – Apple (U.S.)