All online business owners need a presence on social media channels or their competitors will hold a huge advantage.
It's an opportunity to engage with customers and to promote brand awareness and very simple to start: The hardest part is staying with it.
But being more readily accountable and in the mainstream has its issues and rewards.
An SEO ranking is directly affected by social media perception which determines the overall brand persona.
Instant interaction shows a human touch, offering an opportunity to display expertise and knowledge that would otherwise be rarely called upon.
If a brand associates itself with certain social trends there is a chance to align with a common mindset, thereby increasing the scope for a sale.
By backlinking to every social media site a website will inevitably increase their traffic, and the experience of any visit must exceed the expectation.
If visitors experience a good initial impression on a site, they are likely to share this on social media and the benefits of exceptional web design far outweigh the effort.
How to Go Live on Social Media
Going live on social media is one of the easiest ways to bring traffic to your social media accounts – and,
in turn, over to your website as a result. Live has become more popular in recent times, and it's simple
to do on most social platforms.
After I run you through how to go live on separate media platforms, I'll let you in how to go live on a
bunch of them simultaneously.
Let's get started.
Going Live on Facebook
Once you're logged in to Facebook, all you need to do is click on the ellipsis in a new post, then over to
the 'Live Video' button.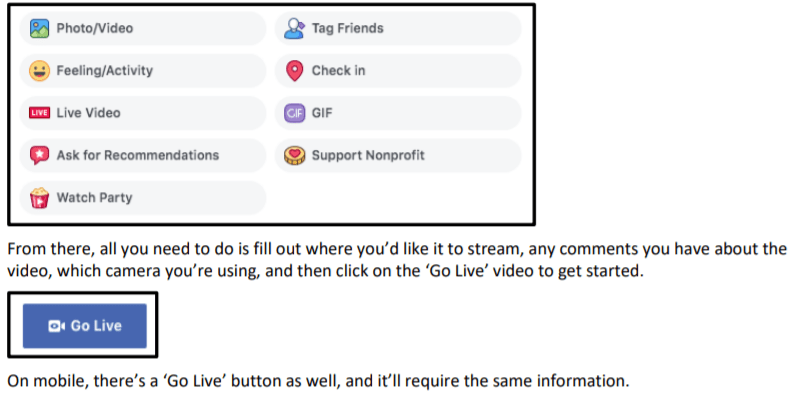 Going Live on YouTube
Once logged into your YouTube account, all you need to do is click on the camera icon next to the search
bar at the top then on to 'Go live'. Fill out the information for your channel and you'll be good to go!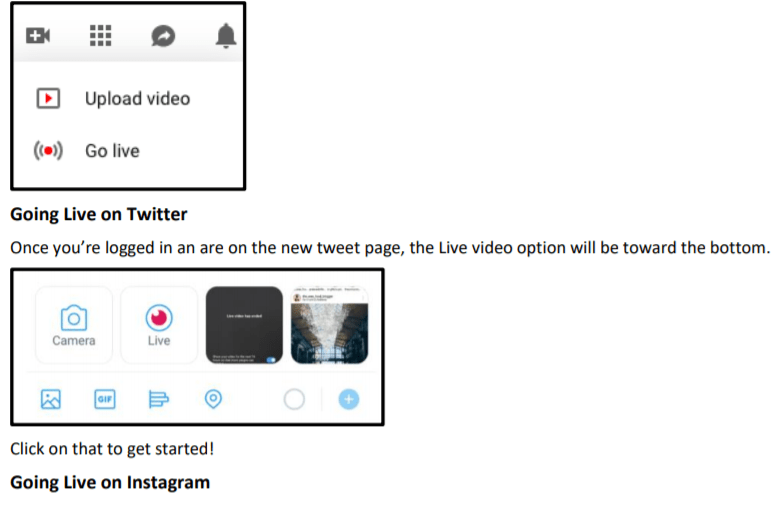 Once you're logged into Instagram, all you need to do is click on the camera icon at the top-left of the
screen, click 'Live' at the bottom of the screen, then hit 'Start Live Video'. It's as simple as that.
Going Live on Multiple Platforms Simultaneously
This can be a little complicated, but there are streaming services, like ReStream and Switchboard, that
help you manage to do it.
Right now, though, I want to take you through the easiest one: ReStream. You can sign up for your free
account by clicking here.
Once you've created your account and verified your email, you'll be taken to ReStream's homepage.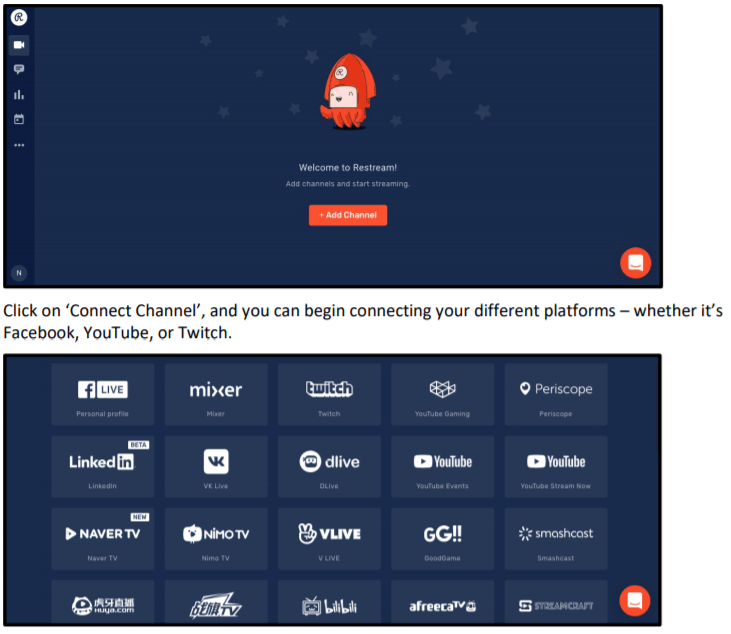 After you've connected your multiple platforms, you'll be taken to a screen with those listed on the left
and video information on the right. What I love about ReStream is that you don't need to connect to
different software to stream your video – you can do it right from ReStream. All you need to do is click
'Webcam' and then the 'Start' button at the bottom.